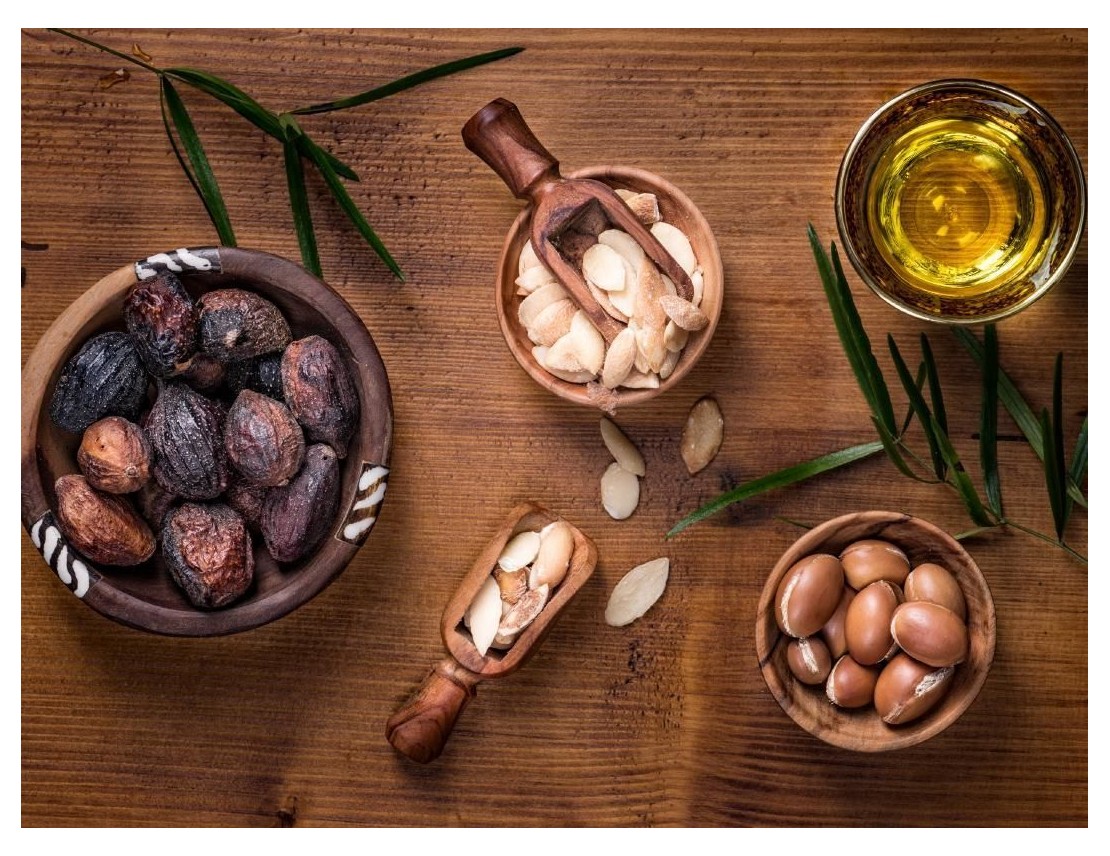 ARGAN OIL: A GIFT FOR YOUR HEALTH CARE
Argan oil is extracted from the core of the fruit of the Argan tree, a thousand-year-old tree grown in Morocco, in the arid zones of the Atlas. This precious walnut oil used both in cooking and beauty, symbolizes the Berber art of living, it is one of the emblems of the Kingdom of Morocco where it has been used for centuries. Argan oil is a prime pillar in the cosmetics products from Morocco.
Rich in vitamin E, antioxidants, unsaturated fatty acids (more than 75 %), Argan oil is famous for its nourishing, regenerating, repairing, anti-aging properties. Its content of fatty acids restores suppleness to the skin. Dry or malnourished epidermis regains a feeling of comfort.
 Another plus and not least, Argan oil is beneficial for all skin types and is especially suitable for dry and mature skin. However, the desert treasure is a victim of its success. Since the oil has become ultra desirable in cosmetics, its production has significantly intensified and industrialized. A development such as extinction, ace Argan groves would be threatened with extinction.
Close to the olive, Argan nut is more difficult to grow hence its cost much higher than other oils.
What are the benefits of Argan oil?
As a cosmetic ingredient of choice, the organic Argan oil is known for its many properties :
Rich in vitamin E, sterols (lipids) and phenolic compounds (antioxidants), Argan oil fights against free radicals responsible for premature skin aging and stimulates the enzymatic activity of skin defence cells.
Vitamin E and polyphenols in Argan oil stimulate collagen synthesis which strengthens the supporting tissue of the epidermis. On the surface, the skin is plumped, suppler, wrinkles are less marked.
By restoring the barrier function of the skin, Argan oil protects it from external aggressions such as cold, wind but also possible allergens, dust.
Thanks to its exceptional content of essential fatty acids, argan oil plays a role in the permeability of the epidermis. It participates in the restoration and maintenance of the hydrolipidic film of the skin, strengthens its barrier function. Water loss and evaporation of water from the skin are limited with a lower risk of skin dryness.
Applied regularly, Argan oil restores elasticity and suppleness to the skin. The epidermis is more toned, more comfortable. Argan oil helps prevent stretch marks in pregnant women if applied from the very beginning of pregnancy.
With its high content of essential fatty acids, Argan oil is extremely nourishing. It is a popular active ingredient for dry, desquamated, dull, tight skin. In winter, it envelops the skin with softness.
It is the anti-radical activity of Argan oil that allows it to have a preventive effect on the formation of stains.
In traditional medicine, Argan oil is used to soothe skin suffering from psoriasis, burns, and chickenpox pimples. It is also a source of comfort for sensitive, irritated skin.
What uses of Argan oil for the skin?
The Moroccan Argan oil has as many modes of use as indication. In the Moroccan cosmetics, Argan oil is used in the formulation of nourishing and protective creams, milks, butters, in regenerating anti-aging care... Pure, it is used directly on the skin in massage to nourish, fight against dehydration, and leave the skin supple and silky.
 The Moroccan organic Argan oil can also be used to care for the hands that it leaves hydrated. In this case, it is best to apply it in the evening before bedtime, to provide a nourishing bath for your hands overnight. Also consider Argan oil to take care of your feet, it restores suppleness and elasticity to the skin. Massage your feet every night with Argan oil and slip them into a pair of socks to reinforce the nourishing action.